By: Daniel Abbott
Introduction
This chapter will provide a brief overview of the representation of clients in probate court proceedings, particularly contested matters. The prevalence of probate court matters continues to increase. Estate plans have grown in complexity. Clients have become wealthier and more sophisticated. With more prosperity and more complexity often comes more opportunity for disputes to arise.
The chapter will begin with a summary of some of the basic types of probate court proceedings, and the different categories of clients probate court practitioners tend to represent, followed by a discussion of some common client misconceptions regarding the probate court process. The chapter will then discuss the importance of a multidisciplinary approach to handling probate court proceedings, including transactional and litigation aspects, formal accountings, and structuring settlements. Next will be a review of some of the issues attorneys face in handling complex estate matters before the probate court, followed by a discussion of some aspects of successful probate court proceedings. The chapter will close with some guiding principles for probate court practitioners. This chapter will be limited to California law and practice.
Conclusion: Advice for Probate Court Practitioners
The first job of a probate court practitioner, and all attorneys for that matter, is to be good at what you do, and be ethical while doing it. That goes without saying. But beyond that basic principle, attorneys who handle probate court matters would also do well to take care in emphasizing the following in their practices:
managing client expectations,
maintaining a multidisciplinary approach including and knowing when to involve outside experts, and
interacting with opposing counsel and the court with class and professionalism.
When managing client expectations, the attorney must be able to prepare the client for the costs involved, how the process is likely to unfold, and how probate court outcomes often differ greatly from what common sense dictates or what clients think the decedents truly wanted. The main issue is to help clients understand that while they may be right, angry, and absolutely certain that they are entitled to what they are asking for, the fact remains that fighting the case to the bitter end may end up destroying the very assets they are trying to recover. That applies to those on the trustee's side, spending the trust's money to pay lawyers, as well as to any beneficiaries who may contest the estate, forcing the trustee to spend the trust's money to respond to the attacks.
Counseling clients on the counterintuitive nature of the process, as well, can help them expect an outcome that differs from what they were told or think the decedent wanted. The probate code, and sometimes case law, often warrant outcomes that are quite different from what people expect. The fact that the process so often moves opposite to clients' beliefs is what makes managing their expectations absolutely essential.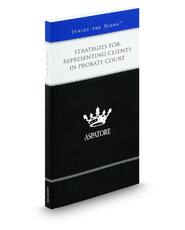 This article is an excerpt from Strategies for Representing Clients in Probate Court Chapter 2, 2012 ed. This excerpt was provided by Aspatore Law Books, part of Thomson Reuters. Aspatore books were originally created for a legal professional audience, but have since become popular with non-attorneys thanks to easy-to-understand writing and smart, real-world insights. You can find the entire book available for purchase on the Thomson Reuters Legal Solutions website by clicking the book title linked above.