By: Russell J. Fishkind
Partner, Saul Ewing LLP
Introduction
Having drafted estate plans for a large cross-section of families and having resolved contested estate disputes for decades, I could not help but notice that there are themes and recurring fact patterns that could ultimately, depending in part upon the efficacy of the estate plan, mean the difference between eternal peace and a great divide. These recurring patterns are constants in every estate battle.
Those who spend time clearly expressing their intentions to their trusted advisors and then execute the appropriate estate planning documents are more likely to have survivors who will peacefully mourn the death of a loved one and amicably share in the decedent's legacy. Conversely, those who do not clearly express their intentions to their trusted advisors and do not have estate plans tailored to the needs of their families will likely have survivors who do not grieve normally and cannot embrace the decedent's legacy because they are consumed with litigating over it.
But likelihoods aside, the following six recurring fact patterns are the universal sparks to every probate litigation fire:
A second marriage with children from prior marriages
An elderly, infirm widow or widower who changed the disposition of his or her wealth shortly before death
Significant wealth, a family business, and a struggle for control
A dysfunctional family
A dilatory, tyrannical, or conflicted fiduciary
An antagonist who is more concerned with his motives than the decedent's intentions. Aptly dubbed "the officious interloper" by one judge who has seen it all, this actor can clog any courtroom calendar—and divide any family.
If any of these six recurring fact patterns exist and the estate plan was ineffective, the estate will be contested. It is a given—a universal truth—and this universal truth transcends time, knows no geographic border, and does not distinguish between rich or poor. You can read Bible stories or classic literature, watch movies or sitcoms, listen to your favorite tunes, enjoy an opera, or surf the Web, and you will recognize that when it comes to inheriting the family wealth, brush fires spread like a wildfire; treasures are reduced to ash; and the legacy of a lifetime can go up in smoke.
Undue Influence Issues
Generally, courts have found that undue influence exists when circumstances show a destruction of the free will and judgment of the person over whom influence is exerted, and consequently, the weakened testator yields to the will of another merely for the sake of peace or is mentally or morally coerced into doing something contrary to his or her own wishes. Undue influence can be established both by pressuring one who is in a weakened mental or physical state to yield to the influencer's control, or sometimes in a much subtler behavior pattern, by using acts of kindness to elicit guilt or dependence such that the weakened testator feels compelled to change his or her will or the titling of his or her assets in favor of the influencer.
To establish undue influence, a contestant will typically need to establish that there were suspicious circumstances at the time the will was executed and that a confidential relationship existed between the testator and the beneficiary. Some states require the objecting party to show also that the influencer had both the opportunity and the motive to influence the testator.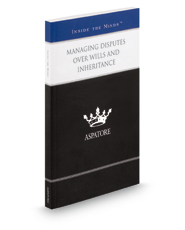 This article is an excerpt from Managing Disputes Over Wills and Inheritance Chapter 3, 2014 ed. This excerpt was provided by Aspatore Law Books, part of Thomson Reuters. Aspatore books were originally created for a legal professional audience, but have since become popular with non-attorneys thanks to easy-to-understand writing and smart, real-world insights. You can find the entire book available for purchase on the Thomson Reuters Legal Solutions website by clicking the book title linked above.