By: Karen B. Lovell
Shareholder, Bernstein Shur Sawyer & Nelson PA
Introduction
The first step, and ongoing effort, in an efficient and expeditious estate administration is the compilation of contact information for beneficiaries and heirs, and complete and accurate information on the decedent's assets and debts. The adequacy of the lawyer's effort in educating her client on the client's responsibilities as personal representative, and the personal representative's regular and thorough reporting to the beneficiaries, will avoid misinformation and mitigate controversies, increasing the likelihood of prompt and cost-effective settlement and distribution.
Probate Court's Role in Administering Estates
In estate administration, a probate court's involvement begins when an applicant asks the court to verify the validity of a decedent's will, or to confirm a decedent's intestacy, and to appoint a personal representative. In testate estates, the decedent's will generally nominates an individual or institution to serve as personal representative. In intestate estates, or in testate estates involving a will that fails to make an effective nomination, the applicable probate statute establishes a priority for candidates seeking to serve as personal representative. A surviving spouse or, in some states, a domestic partner, typically has priority over the decedent's adult children. Children usually have priority over more remote heirs.
Creditors usually have standing to apply for probate and appointment if family members or others fail to do so within a specified period of time. If there is controversy over who should serve as personal representative, that may be the first issue the court must decide. Because the estate administration cannot proceed until an estate representative is appointed, these controversies often result in creditors remaining unpaid, interest and penalties accruing, and jeopardy to the security of estate property.
When competing factions of a family each seek to have an ally appointed as personal representative, the court may appoint an independent professional, such as an attorney, as personal representative, or as an interim administrator with authority to access accounts and safeguard estate assets until the controversy is resolved.
Key Takeaways
Use the initial meeting with a client as an opportunity to educate the client about the estate administration process, and to gather information identifying the nature and ownership status of the decedent's assets. As a threshold matter, this will allow you to determine whether probate is necessary. As the fact-gathering process moves forward, the educational process will also continue, because new information often generates issues that must be resolved.
Demonstrate to clients who are hesitant to allow an attorney to manage and oversee the estate administration process how streamlined and cost-efficient the process can be if handled by professionals who routinely deal with it. The time that it takes to educate clients on what needs to be done, monitor their actions, overcome client inertia, and correct client oversights and mistakes is significantly reduced or eliminated when an experienced probate attorney serves as personal representative, or when the client-PR delegates the hands-on administrative responsibilities to the attorney and his staff.
Advise estate representatives to be as diligent in their efforts to identify estate creditors as they are in their search for assets and heirs. Unless it is very clear that the estate contains sufficient liquid assets to fully pay all creditors, avoid paying general unsecured creditors until it is clear that the estate is solvent. Debts may not have to be filed with the probate court to be enforceable claims.
Use what you learn during the probate process to assist you in the estate planning process. Pay attention to where controversies arise in the interpretation of documents, and use that information to avoid ambiguities when you draft wills, trusts, and other estate planning documents for your clients.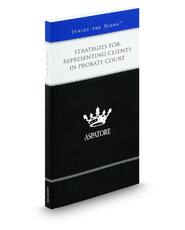 This article is an excerpt from Strategies for Representing Clients in Probate Court Chapter 1, 2012 ed. This excerpt was provided by Aspatore Law Books, part of Thomson Reuters. Aspatore books were originally created for a legal professional audience, but have since become popular with non-attorneys thanks to easy-to-understand writing and smart, real-world insights. You can find the entire book available for purchase on the Thomson Reuters Legal Solutions website by clicking the book title linked above.