By Elizabeth Luckenbach Brown
Adding Value for a Client Seeking a Will
In the context of drafting estate planning documents including a will, the value provided for the client is the precision with which you draft provisions, particularly those that deal with the disposition of property. Value is given to the client in the preparation stages for drafting the document through talking to the client about their objectives, and thinking about alternate distributions.
It's the attorney's job to think of the "what ifs" for the client so that as many bases as possible can be covered through the planning and drafting process. It is not sufficient to treat the preparation of a will as a fill-in-the-blank process. Estate planning is not a one-size fits all proposition, and just because a client's neighbor has a certain provision in his or her will doesn't necessarily mean that provision is right for your client.
Many people think they can go on the Internet and find blank form wills and fill in the blanks, but more often than not, this type of self-help ends up causing problems in the long run that lead to increased cost (emotional and financial) on the loved ones left behind, simply because there was no individualized attention paid to the person's situation.
The Process
Most estate planning engagements begin with a phone call from the client. Oftentimes the client is referred by a friend or attorney who works with the client, but does not have expertise in the estate planning area. As noted above, many parents of young children about to take their first trip without the kids call in a panic wanting to put wills together to make sure their nomination for guardian is properly communicated. After an initial phone call, an appointment is scheduled. In advance of that appointment, the client is provided with a questionnaire that elicits information about the client's assets, including values and how each is titled; to whom the client wishes to distribute his or her property upon death; and who the client wants to be responsible for administering his or her affairs upon death, among other things. At the initial meeting, the attorney and client go through the questionnaire and talk through the issues.
It is very important to note any property that is owned jointly with rights of survivorship or payable by beneficiary designation. A will does not affect the disposition of such property, because such property passes outside of probate by operation of law. A will only governs property owned in one's individual name and not payable upon death by contract. Most clients don't recognize this distinction. For example, if a prospective client, a widow, wants a will that distributes her property equally to her three children upon death, but has all of her property titled in the name of herself and one of her children for convenience, upon the client's death, all of her property will pass to the surviving owner and the terms of the will are inconsequential.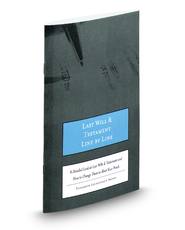 This article is an excerpt from Last Wills and Testaments Line by Line. This excerpt was provided by Aspatore Law Books, part of Thomson Reuters. Aspatore books were originally created for a legal professional audience, but have since become popular with non-attorneys thanks to easy-to-understand writing and smart, real-world insights. You can find the entire book available for purchase on the Thomson Reuters Legal Solutions website by clicking the book title linked above.