By: I. Richard Ploss
Partner, Preti Flaherty Beliveau & Pachios LLP
Introduction
Over the past several decades, we have witnessed the increased use of trusts as vehicles for transferring accumulated wealth from older to younger generations. While much of this increase can be attributed to the minimization of both federal and state death tax liabilities associated with such transfers, trusts are being used to protect such accumulated wealth from creditors and predators of beneficiaries, and to protect beneficiaries from their own behavior. This surge has also spawned an increase in new laws from the Uniform Trust Code, all of which have been designed to codify and provide some formal guidance to settlors (grantors), trustees, and beneficiaries of trust and other fiduciary arrangements in the context of estate planning. As advisors to these parties in such fiduciary arrangements, lawyers must be careful to identify issues and potential conflicts that could result in additional controversy and litigation. This chapter will discuss some of these issues and provide a lawyer with some guidance on how to advise his or her clients in a fiduciary setting.
Key Takeaways
A fiduciary owes two core duties to beneficiaries: a duty of prudent administration and a duty of loyalty. Each of these two core rules has separate sub-rules. Lawyers representing a fiduciary should always ensure that these two rules and their sub-rules are always followed.
Scrutiny of trustee activity by beneficiaries and their legal counsel will increase in the future and litigation will proliferate.
Whenever a lawyer is retained for legal representation in a trust or estate matter, he or she should always identify who his or her client is and in what capacity the client is being represented (i.e., as a beneficiary or as a fiduciary).
When advising a fiduciary in his or her relationship with beneficiaries, lawyers should recommend that in addition to following the basic duties of prudent administration and loyalty, the fiduciary should continuously communicate with the beneficiaries and be transparent with regard to the fiduciary's management of trust property. These duties of communication and transparency are best fulfilled when the fiduciary conducts annual meetings with the beneficiaries (preferably face to face), and provides the beneficiaries with an annual report of trust activity. It is best if the report is delivered and explained to the beneficiary during the meeting.
Beneficiary scrutiny of trustee activities will increase in the years ahead. A trustee who lacks skill in a particular area of trust administration should seek the assistance of professionals. In jurisdictions that have adopted the Uniform Prudent Investor Act, a trustee who lacks investment skill should delegate such function to an investment advisor.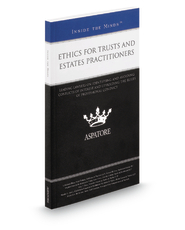 This article is an excerpt from Ethics for Trusts and Estates Practitioners Chapter 1, 2013 ed. This excerpt was provided by Aspatore Law Books, part of Thomson Reuters. Aspatore books were originally created for a legal professional audience, but have since become popular with non-attorneys thanks to easy-to-understand writing and smart, real-world insights. You can find the entire book available for purchase on the Thomson Reuters Legal Solutions website by clicking the book title linked above.