By: Bryan L. Salamone
Principal, Bryan L. Salamone & Associates PC
Managing the Emotional Aspects of Family Law Cases
It is important for lawyers to understand the complex underlying issues in many family law cases. For instance, a man who walks into his home and sees his wife having relations with the neighbor cannot beat up the neighbor and expect to get away with it. The law controls your every movement in these cases; therefore, in many instances, your client's emotions are being stifled. Consequently, you may be dealing with a client who needs their "pound of flesh," so to speak; they want their day in court to tell everyone how they have been wronged.
Best Practices for Working Effectively with Judges and Court Officers
One of the most important strategies for successfully trying a family law case is to know your judge. Of course, it takes time to get to know a judge, but if you listen very carefully to their decisions in other cases and you are able to read human nature you can get a sense for how a judge is going to rule in most scenarios. A stubborn lawyer may feel they can somehow change a judge's opinion with respect to certain items, but I believe the best practice is to try to "see the forest for the trees" and to fight the war, but not each battle. Of course, this can be very difficult for lawyers to do, because they want to win every tiny battle that crops up along the way. Unfortunately, this strategy often has the exact opposite result, and you wind up hurting your clients more than helping them.
Supporting Clients in Initiating a Divorce Proceeding
The best strategies for supporting a client who is initiating a divorce proceeding are:
Listen to the client, write down the client's goals, and consider them marching orders.
Be realistic—and if the client's goals are unrealistic, tell them so early on in the case.
Be honest when it comes to explaining the devastating financial consequences of litigation, and steer the client away from irresponsible litigation such as engaging in unnecessary motion practice.
Assist the client in creating plans, goals, and resources for the future so they do not fall on their face financially or as a parent after the divorce.
Start working towards the settlement of the case on the day the case starts. Often, it is more prudent to send a letter to the opposition opening the door for settlement rather than jumping right into requesting the intervention of the court.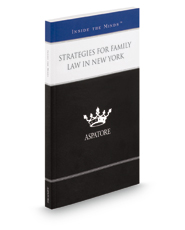 This article is an excerpt from Inside the Minds: Strategies for Family Law in New York Leading Lawyers on Navigating Changing Family Law Trends, Developing Effective Strategies, and Building Client Relationships, 2014 ed. This excerpt was provided by Aspatore Law Books, part of Thomson Reuters. Aspatore books were originally created for a legal professional audience, but have since become popular with non-attorneys thanks to easy-to-understand writing and smart, real-world insights. You can find the entire book available for purchase on the Thomson Reuters Legal Solutions website by clicking the book title linked above.