By: Rhea J. Rolfe
Partner, Gilson-Moreau & Associates PS
Introduction
International and interstate custody issues are becoming more and more frequent with the increased ability to move from state to state and country to country. Ease of communication via the Internet has made marriages and liaisons between people from different countries and states almost commonplace. Servicepeople stationed in other countries often develop relationships with local residents, resulting in children born of the international relationships. The complications resulting from the break-up of these relationships form a unique and challenging field of law. Often the parties are able to resolve those challenges amicably. When they cannot, attorneys and the courts may become involved to settle the differences. This chapter focuses on some of the problems and solutions available in those situations.
Jurisdictional Issues in International Family Law
Hague Convention cases are rare, and most family law lawyers will not have even one in all their years of practice. One reason you might not have such a case is that the United States does not provide an attorney for the left-behind parent (many other countries provide free counsel). While the State Department maintains a list of pro bono attorneys, there are not many in each jurisdiction, and those cannot afford to take on too many cases. Most people cannot afford a full-fee attorney (the State Department also maintains a list of these), so many left-behind parents are left without recourse to retrieve their children taken to the United States.
The Hague Convention is not at all about custody. This is a difficult concept for many courts to accept, and you must be cautious in choosing a forum for bringing a Hague Convention case to emphasize that the case is not about custody—a concept mentioned above. The idea behind the Convention is to bring about the "prompt return" of children who have been wrongfully removed or retained from their "habitual residence."
Key Questions for International Family Law Clients
The first questions lawyers need to ask international clients before proceeding with a case include:
Do you have a court order?
Do you have an address for the other party?
Are you in communication with the other party?
How old are the children?
When did the other party move here?
Who are the other person's local contacts?
What is your relationship to the children? (e.g., Are you the legally recognized parent? Do you have rights of visitation under the law where you resided with the children, and were you exercising that visitation?)
The answers to these questions are important for several reasons. First, a case is much easier to manage if the parties have a court order, and certainly, if they are in agreement. These criteria often apply when the case is a relocation/registration. In a Hague Convention matter, there is often no agreement whatsoever and no court order. The left-behind parent must have had rights of custody (including visitation) under the law of the requesting state, and must have been exercising those rights. Also, the Convention no longer applies after the children turn sixteen. The UCCJEA does not apply in the filing jurisdiction until the children have resided in that location for six months. Other time-driven criteria will inform an attorney whether a case can be filed in the new jurisdiction.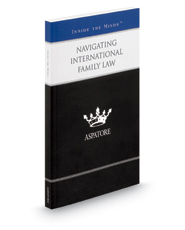 This article is an excerpt from Inside the Minds: Navigating International Family Law, 2013 ed." This excerpt was provided by Aspatore Law Books, part of Thomson Reuters. Aspatore books were originally created for a legal professional audience, but have since become popular with non-attorneys thanks to easy-to-understand writing and smart, real-world insights. You can find the entire book available for purchase on the Thomson Reuters Legal Solutions website by clicking the book title linked above.