By: Sheryl A. Moore
Shareholder, Fowler White Burnett
Introduction
The complex arena of family law, which is formally known as "Marital and Family Law" in Florida, has been significantly affected by many recent ethics trends. What follows is a brief summary of many of the trends I have recently come across during my busy practice in south Florida.
The rise in the use of technology brings with it a barrage of ethical issues for marital and family law attorneys and their clients, such as: emails inadvertently sent to you from the other party or the other party's attorney which were not meant for your viewing; your client intentionally or unintentionally intercepting the other party's emails and US mail; and your client intercepting the other party's communications with their attorney.
Our clients are gaining access to evidence, which they then demand that we, as their legal counsel, use to pursue a particular line of offense or to use in their own defense. Is this ethical?
What's more, clients are increasingly using social media, microblogging, and social networking sites such as Pinterest, Instagram, Facebook, LinkedIn, and Twitter as well as online dating sites such as Match and eHarmony. Some clients create faux profiles to view, "friend," or "wink at" their soon-to-be former spouses or former mates. Is it ethical to use communications gained from such farces in our family law cases? Is it ethical to use screen snapshots of a party's Facebook profile or to use the other party's Match.com profile? How about when these screen shots are taken by a client's friends and co-workers? What about communication between a potential romantic interest (who is your client posing as another person) and the other party in an "online chat" regarding details of their personal life, when such details are elicited under this setup and guise as a new love interest?
New Strategies for Family Law Attorneys
The practice of family law has become incredibly fast-paced, with lawyers sometimes operating at seemingly breakneck speeds. Clients are sometimes overly demanding in their perceived need for an immediate response regarding a burning question that may be on their mind. It is important for attorneys to be accessible to their clients. However, always being on the defensive by answering questions in a piecemeal nature is usually not a good idea. To temper a client's emotions, maintain continuity in my case strategies, and manage client expectations, I use pre-scheduled client conferences, either in office, over the phone, or via Skype. I encourage clients to email me their questions (or their conference agenda) beforehand.
Further, I hold quarterly case reviews with my staff to:
Encourage a team approach;
Ensure all files are being given appropriate attention;
Brainstorm possible solutions to pending problems;
Double and triple check deadlines and calendar entries;
Schedule necessary meetings and hire necessary experts;
Ensure filing is up-to-date and done properly; and
Make sure legal research projects in the file are up-to-date.
Key Takeaways
Be readily accessible to your clients. Use pre-scheduled conferences, either in office, over the phone, or via Skype. Encourage clients to email you their questions (or their conference agenda) beforehand. Also hold quarterly case reviews with your staff.
Ask your clients to email you a narrative covering their relationship history, the current status of all their assets and liabilities on the date of filing, and their idea of the best outcome in their case.
Inform the client that any evidence they obtain through improper means, such as hacking into or accessing the other side's emails, is not admissible evidence.
Take care of your own mental health to avoid burnout and to ensure you can continue to be there for your clients' every legal need. Take technology breaks, work out, attend personal mental therapy sessions, schedule vacations, start a hobby.
Attend seminars with ethics CLE credits. Read the Florida Law Weekly, The Florida Rules of Professional Conduct, and the Bounds of Advocacy-Goals for Family Lawyers in Florida.
Review with your client the multiple forms of proper discovery, which if done in a thorough, aggressive, and methodical manner, will produce virtually complete production to successfully litigate or settle all pending and pertinent issues in their case. Advise clients to open a new email account so that you can communicate with them securely and privately.
Treat your client in a respectful manner and do not tolerate a client who tries to use you as their scapegoat. Never discuss your client's business with anyone else. Challenge yourself to be better, to be smarter, to be more respectful, and more courteous to others.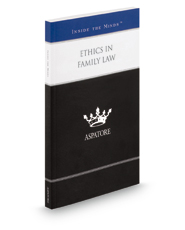 This article is an excerpt from Ethics in Family Law, 2014 ed. This excerpt was provided by Aspatore Law Books, part of Thomson Reuters. Aspatore books were originally created for a legal professional audience, but have since become popular with non-attorneys thanks to easy-to-understand writing and smart, real-world insights. You can find the entire book available for purchase on the Thomson Reuters Legal Solutions website by clicking the book title linked above.