By: Katherine A. Harmon
Partner, Mallor Grodner LLP
The Role of the Attorney
Attorneys need to know if their client is mentally sound enough to pursue an adoption or surrogacy case, knowing that there may be a negative outcome. Attorneys also need to ensure their clients have realistic expectations about the process, what is involved, and the potential pitfalls. Those pitfalls could be the surrogate or biological parent failing to follow through with the process, the child being born with some medical difficulties, or a process that takes longer than expected.
Attorneys also need to ensure their clients are appropriate candidates in that they do not have a criminal record or history with Child Protective Services that could disqualify them from being able to adopt or participate in a surrogacy arrangement.
Adoption Cases
In adoption cases, attorneys get involved at various stages in the process. Sometimes parents will come to us with a child in mind to adopt and then we are involved only in moving the case through the legal process. We can also get involved with helping the prospective adoptive parents find an available child to adopt.
Surrogacy Cases
In surrogacy cases, attorneys also get involved at various stages in the process. We can be consulted prior to the parties trying to find a potential surrogate or after the parties have found a surrogate and are merely trying to reach an agreement as to the terms of the surrogacy agreement prior to the pregnancy occurring.
In my initial meeting with a client, whether it is for an adoption or a surrogacy agreement, I detail to them the laws in Indiana and what they can expect to encounter as the process unfolds. It is at this initial meeting that I make sure they are aware of the potential pitfalls of the process (i.e., that the birth mother or surrogate could change their mind, etc.) and try to ensure they are ready to take that risk. If I have concerns about whether or not they could handle this process, I will refer them to a mental health professional for evaluation. Given that both adoptions and surrogacy agreements can be quite stressful, it is very important to know going into the process whether or not the individuals who are participating in the process are willing and able to undergo the process.
Key Takeaways
In surrogacy cases, courts will look into any agreement that seems to be providing payment for a child instead of simply reimbursing the surrogate and providing a small stipend during the pregnancy. This is done to ensure that no one is simply just trying to buy a baby.
In some states, including Indiana, it is important that individuals entering into a surrogacy agreement understand that the laws of those states will not enforce the agreement should the surrogate not follow through.
When working on a case where there is only a single parent seeking adoption or a surrogate, it is important for that individual to have an estate plan in place stating what should happen to the child in case anything should happen to that individual.
If considering adoption it could be beneficial to start as foster parents. While foster parents do not receive any special consideration under the law, if the CPS case is still open thus requiring consent from the caseworker for the adoption, the caseworker is much more likely to consent to the adoption by the foster parent(s) than another individual(s).
Ensure your clients have realistic expectations about the processes involved with surrogacy or adoption. They must understand what is involved and the potential pitfalls or complications they could encounter.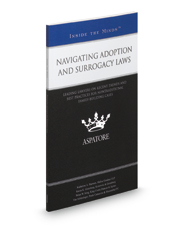 This article is an excerpt from Navigating Adoption and Surrogacy Laws Leading Lawyers on Recent Trends and Best Practices for Nontraditional Family-Building Cases, 2014 ed. This excerpt was provided by Aspatore Law Books, part of Thomson Reuters. Aspatore books were originally created for a legal professional audience, but have since become popular with non-attorneys thanks to easy-to-understand writing and smart, real-world insights. You can find the entire book available for purchase on the Thomson Reuters Legal Solutions website by clicking the book title linked above.