By Mary Ellen Sowyrda
Partner, Murphy Hesse Toomey & Lehane LLP
A Negative Trend
One trend that I see increasing, unfortunately, is the phenomenon of parents making unilateral placements. This means that they remove their child from the public school special education program and place the child in a private special education school. I know this happens all across the country, but it may be particularly acute in Massachusetts since we are home to many private schools that serve special needs students. Some of these private schools maintain a policy that they will not actually accept a special needs student unless there has been an agreement with the public school that the student needs their programming. That is a wise practice. The law, after all, is based on providing services based on the needs of the child, not on what is optimal or even beneficial. For example, there are a number of private schools in Massachusetts that serve students with learning disabilities. Some of these schools, unfortunately, have a practice of encouraging parents to enroll their students in their schools, and then working with these parents to litigate cases against the public school. The goal is to obtain public finding for these private, unilateral placements. This practice is on the upswing and that is unfortunate.
A great deal of my time is spent with public schools addressing this concern. I, like other school district attorneys, am often contacted by the parents' attorney, and we pick up where things stand. The unilateral placement has been made. What are we going to do about it? Are we going to a due process hearing at the BSEA, or a settlement conference where the district may agree ultimately to fund a portion of the placement; how are we going to resolve the dispute?
In fairness to this discussion, sometimes the parents' decision has merit; the student has not been successful in the public school program. But often, it seems that the decision is made prematurely, and is motivated by frustration or lack of trust, as opposed to a true understanding of what the district can offer to help the child. In fact, there may be other services that the public school can and should offer. Behind the scenes, I may have an "off the record" conversation with my client to say, "… you really need to offer more in the public school, or through a placement in another nearby public school, or educational collaborative…to improve your case and to adequately educate this child." Can we offer a more intensive, yet still in-the-school-district program, a "substantially separate program," to keep the child in "the least restrictive environment"?
A Positive Trend
Good news does exist on the special education landscape. While many positive developments do exist, one that interests this author is in the area of "transitional planning" for students with special needs. There has been a growing awareness among educators, educational experts, hearing officers, and judges concerning the obligation of school districts to plan for students who are starting to age out of special education. Interesting case law is emerging on this topic. This topic is appealing because it is practical, it is not complicated, and, when done correctly, it provides invaluable assistance to special needs students and their families. The general underlying notion behind transitional planning is this: significant resources are committed to students who are being provided with special education in Massachusetts from ages three to twenty-two, or until they graduate from high school, whichever occurs first.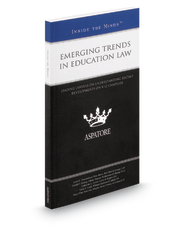 This article is an excerpt from Emerging Trends in Education Law Chapter 3, 2015 ed. This excerpt was provided by Aspatore Law Books, part of Thomson Reuters. Aspatore books were originally created for a legal professional audience, but have since become popular with non-attorneys thanks to easy-to-understand writing and smart, real-world insights. You can find the entire book available for purchase on the Thomson Reuters Legal Solutions website by clicking the book title linked above.