By Daniel R. Pascale, CPP
Senior Director, Security and Emergency Management Services, Margolis Healy
Changing Needs in Schools
One of the most significant changes in K-12 security over the past decade has been the evolution of emergency response training and emergency plans in the wake of extraordinary tragedies experienced at K-12s around the world. While schools once focused their attention on traditional preparedness measures, such as fire drills, required by some state laws, we now see many schools developing elaborate emergency plans, conducting drills based on all-hazard planning, and embracing emergency management practices, such as the Incident Command System. A great deal of credit for this should be given to the Department of Education and the work of the Readiness and Emergency Management for Schools Technical Assistance Center.
The Incident Command System is a great example of changing needs, and it has gained wide acceptance as the standardized incident management system that is both flexible and scalable and has the ability to address the requirements of a single, relatively simple incident up to a more complex, multi-agency or jurisdictional incident.
But there is still much work to do in training teachers and students in emergency response. Determining the appropriate amount of time and resources to dedicate to this training is a common issue raised by school administrators across the country.
Key Takeaways
It is important for schools to start their transition to a more thorough all-hazard emergency operations plan from the more traditional crisis plans that are typically specifically focused on a single hazard. Selecting the planning team, goals, objectives, and timelines for the development of these new plans is critical to creating a successful plan and being prepared for any type of emergency or hazard that may occur.
When developing emergency plans, it is important for schools to involve both internal and external stakeholders, including school security officers. Encouraging collaboration and including all parties who may be involved in an emergency can empower the parties to execute the plan successfully in the case of a real emergency or hazard.
Understand the mutual benefits that can be realized when there is collaboration between school security officers and local law enforcement, including enhanced prevention and mitigation of potential criminal activities and the creation of more healthful school environments and safer communities.
Provide training for teachers, staff, and students to be able to assess a situation, understand what is going on, and use the information to determine quickly the most appropriate action and then to maintain situational awareness to continue to determine their next course of action.
Encourage schools to conduct frequent drills to test the all-hazard emergency operations plans they have developed. Conducting drills allows for the evaluation of the plan, identification of gaps in the plan, and clarification of roles and responsibilities. You do not want students, faculty, and staff performing necessary actions for the first time in a high-stress, critical situation or incident when seconds can mean the difference between life and death.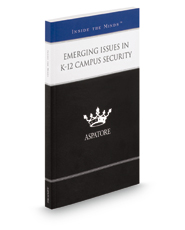 This article is an excerpt from Emerging Issues in K-12 Campus Security Chapter 1, 2015 ed. This excerpt was provided by Aspatore Law Books, part of Thomson Reuters. Aspatore books were originally created for a legal professional audience, but have since become popular with non-attorneys thanks to easy-to-understand writing and smart, real-world insights. You can find the entire book available for purchase on the Thomson Reuters Legal Solutions website by clicking the book title linked above.