By Tyree K. Dorward and Dina Harris
Partners, Best Best & Krieger LLP
Introduction
On the morning of December 14, 2012, the deadliest and most horrific K-12 school shooting in United States history took place at Sandy Hook Elementary School in Newtown, Connecticut. The perpetrator, Adam Lanza, a young man with a history of mental health issues, shot his way into the school through a locked door and then killed twenty children and six of their teachers and administrators. This tragedy highlighted a myriad of issues educational agencies have been trying to better address in the current environment, including school and student safety, gun control, and mental health. In the short time since this tragedy, the response and reaction from state and federal lawmakers, local school boards, and individual school administrators has been swift and wide reaching. This chapter provides an overview of these efforts, focusing on what trends can be seen as well as how these school safety issues may be addressed in the future.
Spotlight on School Shootings
In 2002, the United States Department of Education, in collaboration with the Secret Service, performed a comprehensive national review of school shooting incidents dating back to 1974 up through the year 2000. The study was known as the Safe School Initiative and included an analysis of thirty-seven school shooting incidents involving forty-one student attackers. The study provided an in-depth analysis of each of these school shootings, involving review of police and school records, court documents, and other sources, and even included interviews with ten school shooters. The intent of the analysis was to assess the facts and circumstances of each school shooting to identify patterns or pre-shooting behavior that could assist efforts to prevent future school shootings.
Looking at the Safe School Initiative's findings today, it almost appears they could have been written in response to Sandy Hook. The study's ten key findings were as follows:
Incidents of targeted violence at school are rarely sudden, impulsive acts.
Prior to most incidents, other people knew about the attacker's idea and/or plan to attack.
Most attackers did not threaten their targets directly prior to advancing the attack.
There is no accurate or useful profile of students who engaged in targeted school violence.
Most attackers engaged in some behavior prior to the incident that caused others concern or indicated a need for help.
Most attackers had difficulty coping with significant losses or personal failures. Moreover, many had considered or attempted suicide.
Many attackers felt bullied, persecuted, or injured by others prior to the attack.
Most attackers had access to and had used weapons prior to the attack.
In many cases, other students were involved in some capacity.
Despite prompt law enforcement responses, most shooting incidents were stopped by means other than law enforcement intervention.
Key Takeaways
Most incidents are not sudden, impulsive acts. This means that they are deliberate and planned out, and therefore possible to prevent if the underlying issues are detected and resolved.
Victims of bullying of all forms are more susceptible to future acts of violence in schools. Through both school programs and legislative programs, cracking down on bullying is a tool in preventing future incidents.
While the federal government has had a difficult time enacting comprehensive laws addressing school safety and substantive gun control restrictions, it has been proactive in developing and promoting policies aimed at addressing the underlying issues related to school violence, particularly in the area of bullying, cyber-bullying, school climate and student support.
Courts have expanded schools' ability to discipline off-campus speech that makes an identifiable threat of school violence. Schools may prohibit speech that might reasonably lead school authorities to forecast substantial disruption or material interference with school activities or collides with the rights of other students to be secure and let alone.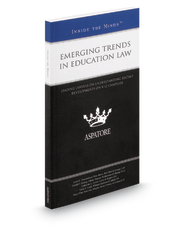 This article is an excerpt from Emerging Trends in Education Law, 2013 ed. This excerpt was provided by Aspatore Law Books, part of Thomson Reuters. Aspatore books were originally created for a legal professional audience, but have since become popular with non-attorneys thanks to easy-to-understand writing and smart, real-world insights. You can find the entire book available for purchase on the Thomson Reuters Legal Solutions website by clicking the book title linked above.