By John F. Cannizzaro
Partner, Cannizzaro Bridges Jillisky & Streng LLC
Goal of Bankruptcy Filing
The ultimate goal of a bankruptcy filing is to provide the debtor a fresh start and to get people back into the economic life of the community. In ancient European times, debtors were imprisoned for failing to pay their obligations. Incarcerating large segments of your population for debt does little to promote economic growth, entrepreneurism or stability. Bankruptcy laws should be designed to give individuals an opportunity to contribute economically, take risks and if unsuccessful provide an avenue for rejoining the economic process.
Bankruptcy is similar to crossing a swift moving stream. Bankruptcy attorneys serve as guides locating stepping stones so as to successfully reach the opposite shore. You have to know the facts, the law, the judges, trustees, and opposing counsel to fashion a successful remedy. Modifications to the Code and court decisions change the complexion of the practice. Each change produces opportunities for critical legal thinking.
When to File?
Filing of a bankruptcy case is pretty much dictated by the client. When clients come in to seek relief under the bankruptcy code is when the attorney's participation begins. Debtors are motivated to file for a myriad of reasons: garnishment, foreclosure, auto repossession, divorce or death. These outside influences dictate when a case is filed. There are those occasions when someone comes in and, as a prophylactic measure, want bankruptcy information. With those cases, you can choose the best point in time to file. The ideal filing time is dependent on code interpretation, assets owned and what is to be accomplished. Ultimately all these factors enter the equation of when you file. Spend some time pre-decision planning and looking at future anticipated changes: i.e., whether the debtor is contemplating divorce, for example. Many factors need to be considered. Some clients will come in after they have cashed out a pension or some other exempt asset and turned it into cash. There needs to be consideration on how to best use those assets.
Key Takeaways
Make sure your clients know that the reason they are being asked to bring in so much documentation is that you need to be able to analyze everything to give them the best advice possible. Recognize that it could be a hassle for them, but gain their trust so they know it is all for a good reason.
Assisting a client goes beyond just filing the bankruptcy. After filing, it is helpful to refer them to other professionals who can assist them with things like refinancing a mortgage or regaining credit.
The pressures on your clients to pay back a family member, for example, can be heavy. Take the time to inquire about how they are really spending their money and incorporate that into their plan.
Ensure that you are as well educated about the bankruptcy process as you can be. Know the code, take all the CLEs that are available, and mentor with an experienced attorney.
Each judge has their own way of interpreting the code and looking at cases. Success can depend on becoming familiar with your own local courts and judges. Observe as many as you can so you get to know their quirks and peculiarities.
Protect your client's bankruptcy benefit by contesting motions for relief from stay that are too generic and can lead to post-petition judgments against your client.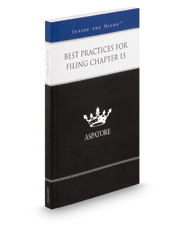 This article is an excerpt from Best Practices for Filing Chapter 13, 2015 ed. This excerpt was provided by Aspatore Law Books, part of Thomson Reuters. Aspatore books were originally created for a legal professional audience, but have since become popular with non-attorneys thanks to easy-to-understand writing and smart, real-world insights. You can find the entire book available for purchase on the Thomson Reuters Legal Solutions website by clicking the book title linked above.