By Ann K. Chapman
Partner, Vanden Bos & Chapman LLP
Changes in the Landscape of Consumer Bankruptcy
In the last thirty years, the landscape of consumer bankruptcy has become increasingly complex. The law is more complicated and the information needed to do the various analyses necessary to advise a client has placed burdens to produce mounds of documents on clients like never before. So, as a practitioner you need to know the rules and help your clients know what they need to do when. The Bankruptcy Abuse Prevention and Consumer Protection Act (BAPCPA) changed things dramatically—in some good ways and some bad ways. When I first started doing this work, we typically asked for a few years of tax returns, the most recent pay stub, and an intake packet. We basically believed what our clients told us and, with rare exception, our trust in those clients was well-founded. My experience with the average client is he or she wants to tell you the truth—and do, to the best of their ability. It is your job to make sure clients are being thorough by reviewing what they provide you. It is also essential that you actually talk with your clients in detail so you understand their situation and how they came to you. In many cases their perceived lack of disclosure may be a result of not fully understanding what you need from them or understanding things we bankruptcy lawyers take for granted, like what is a "claim" against someone else. To be sure your clients understand you, use examples whenever you can. Your job is to gain their trust so that they tell you everything. In addition, you need to cultivate the skill to ferret out the whole story by reviewing source documents and developing excellent client interview skills so the information can be presented accurately on the bankruptcy schedules.
Key Takeaways
With the introduction of BAPCPA, even otherwise seemingly simple bankruptcy cases have become complicated due to the requirements for a significant amount of extra paperwork including six months of bank statements and pay stubs, property tax statements, and appraisals. These changes have increased lawyer fees in many cases.
With more people relying on the Internet to find lawyers, it is important to have a staff member or consultant dedicated to search engine optimization to ensure that when someone does a Google search for a bankruptcy lawyer in your area they will find you.
The goal of a Chapter 13 bankruptcy filing is to discharge as much debt as possible and get a client out from under as much debt as you can while maintaining the process and its integrity. The goal is to help rehabilitate a debtor. We need to break clients of the habit of living in reaction to their lives and instead help them get a good stable footing so they can plan.
Avoid consultations over the phone or via e-mail. Meet your client in person so that you can do an initial read of your client to decide if they are honest and are willing to let go of control to get the help they need.
At an initial consultation listen to what your client tells you and review the information they bring to you. Use all of that to compare and contrast how Chapter 7 versus Chapter 13 would work for their circumstances to evaluate what would be best for them.
Help your client raise their consciousness about how they spend their money and about where it goes. Help them to understand what the process is like to make a large purchase such as a car while in Chapter 13 and help them to learn how to live without certain things that they may otherwise be used to.
Address your client's emotional concerns and help them gain a new perspective of what brought them to your office.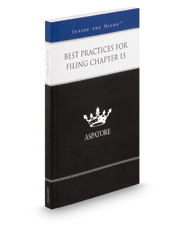 This article is an excerpt from Best Practices for Filing Chapter 13, 2015 ed. This excerpt was provided by Aspatore Law Books, part of Thomson Reuters. Aspatore books were originally created for a legal professional audience, but have since become popular with non-attorneys thanks to easy-to-understand writing and smart, real-world insights. You can find the entire book available for purchase on the Thomson Reuters Legal Solutions website by clicking the book title linked above.